Jay & Patty Baker Create Scholarship to Honor Steven Frumkin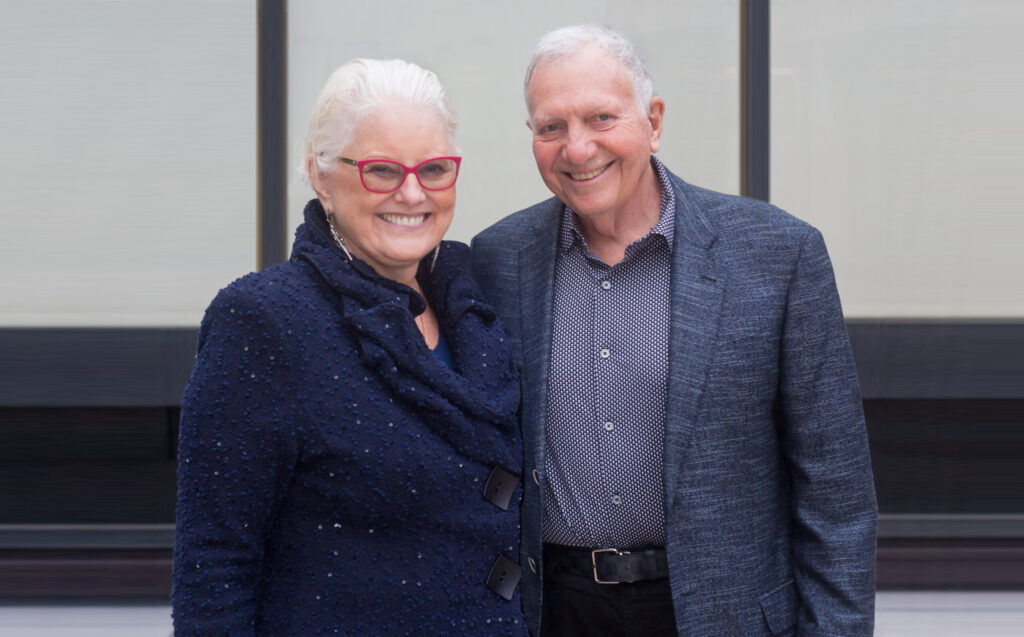 For eight years, Dean Steven Frumkin led the Jay and Patty Baker School of Business and Technology. The school was named for the Bakers in 2006 following a $10 million donation to FIT in 2001. During Frumkin's tenure, the dean and the donors developed a warm friendship that benefited the school they all loved, and, most important, helped its students succeed.
As dean, Frumkin brought special expertise and insight to the Baker School. "He not only had industry experience, he had experience as an FIT faculty member," Jay Baker says. "And he really cared about the school. You could feel it."
Frumkin was the force behind the accreditation of the majority of the school's programs by the Accreditation Council for Business Schools and Programs in 2018.
"It was a difficult thing to do, but he had a way of getting things done, even things that were complicated for somebody else—somehow he could make them happen," Jay says. "I remember when he called me to tell me the school had been accredited, and how proud he was. We were so proud, too, and that was an incredible moment."
After Frumkin died of Covid-19 in 2020, the Bakers were inspired to create a scholarship in his name. With a $350,000 donation, they established the Jay and Patty Baker Endowed Scholarship in Honor of Dean Steven Frumkin, to be awarded in perpetuity to a first-year student enrolling in the Baker School.
"We did it to keep him alive, to keep his memory alive," Patty Baker says. "It's that simple. We loved the man, and we wanted to honor him."
"It was a difficult thing to do, but he had a way of getting things done, even things that were complicated for somebody else—somehow he could make them happen,
Since making their initial connection with FIT, the Bakers have continued their involvement with the college and the Baker School. Jay Baker, former president of Kohls Department Stores, and his wife, Patty, are noted philanthropists who take a hands-on approach to support. Jay served on the FIT Board of Trustees and as chair of the FIT Foundation, and the Bakers endowed 40 scholarships for students in the School of Business and Technology, awarded based on financial need, academic achievement, and community service. In addition to scholarships, Baker Scholars get individual attention and advice from the couple, who come to FIT every year to engage with them and sometimes keep in touch even after graduation.

"Steven understood that the most important reason you're there is to make sure the students are taken care of. He always felt for the students, and he would always help," Jay says. "Like us, he wanted to make sure they get a great education and then they get a job."

Patty recalled his dedication, and says he deserves to be remembered. "Steven didn't see being dean as a walkaway job—you're there for X number of hours and then you leave and forget it. It lived with him. He was really invested in the students," she says, adding, "We miss him."